Homeowner's Guide to Prepaying Your Mortgage
HSH.com
Wondering what to do with that tax refund? It might just be an opportunity to save thousands of dollars in mortgage interest. In fact, a single one-time lump-sum prepayment in the early years of your mortgage can not only trim your costs, but it can carve years off your mortgage term.
Even adding as little as $10 per month to your current payment can save you thousands of dollars of interest. Before you start, though, you'll need to understand how and when to do so.
For a graphic example of how much money you can save, see this graph.
"Prepaying Your Mortgage," the latest booklet in HSH's "A Homeowner's Guide To" series, can help you understand how and when to prepay your mortgage to maximum benefit -- and when it's better not to. The 12-page booklet helps homeowners understand how to integrate their mortgage into a structured financial plan. "Prepaying Your Mortgage" is right for you if you've...
wondered if you should invest the money in stocks, or prepay, instead;
been considering whether to prepay or refinance;
been solicited by a firm who claims that they'll make your payment every two weeks, claiming tens of thousands of dollars in savings;
want to pay off your mortgage to meet a goal, like retirement;
would like a lower monthly payment on your ARM;
need to know how to calculate savings;
and lots more.
If you're a homeowner, "A Homeowner's Guide to Prepaying Your Mortgage" is for you. The booklet is available for $4 (money orders only) from HSH Associates (address below).
This booklet is offered to consumers for only $4 to cover printing, shipping and handling.
(Handled By 2checkout.com)
This booklet is also available in combination with our Homebuyers Mortgage Kit for an additional price of $2.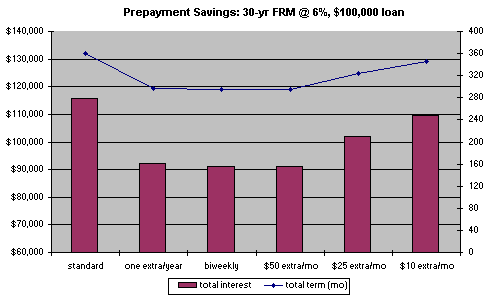 If you prefer, you can send a money order (sorry, no personal checks) to this address:
HSH Associates
Dept. PPY
51 Route 23 South
Riverdale, NJ 07457
Accredited media wishing to preview a copy should request a copy. Please include the name of your media outlet, your office address, and your e-mail address.
The booklets in the "A Homeowner's Guide To" series include:
More help from HSH.com
HSH.com on the latest move by the Federal Reserve

The Federal Reserve concluded a meeting today with a quarter-point change in the federal funds rate, but no changes to other monetary policy tools.

10 metros where a home costs about $1,000/month

HSH.com identifies 10 metro areas where you can afford the principal, interest, taxes and insurance payments on a median-priced home for only around $1,000 per month.

Home price recovery index: Which metros have improved the most, least?

Have home prices in your area fully recovered from the declines suffered during the Great Recession, or are they still struggling to make it back to the peak it reached before the crisis?

The salary you must earn to buy a home in 27 metros

Here's how much salary you would need to earn in order to afford the median-priced home in your metro area.

Can I separate tax and insurance payments from my mortgage payment?

It may or may not be possible for you to take on the responsibility