Federal Funds vs. Prime Rate & Mortgage rates (graph)
HSH.com
Click here to see a graph of Fed Funds rates.
Does the Federal Funds rate affect mortgage rates? Click here to find out.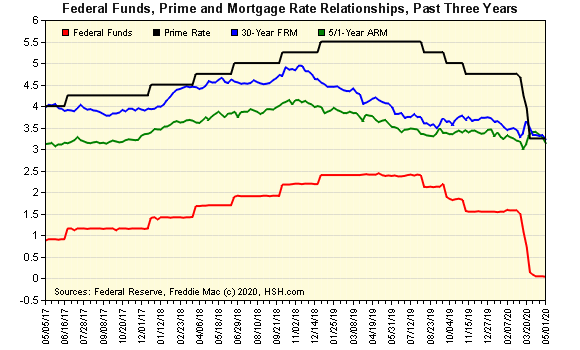 As you can see here, the Federal Funds rate and the Prime Rate track along with each other very closely.
One-year ARMs are also affected by trends in short-term interest rates. As a lenders' cost of obtaining funds to lend declines, some of those reductions as passed to borrowers in the form of lower starting rates.
Long-term rates, such as 30-year fixed-rate mortgages, pay little attention to short-term rates, responding instead to economic growth and inflation pressures. They more closely follow other long-term rates, such as the yield of the ten-year Treasury Constant Maturity.
More help from HSH.com
Can home price trends predict a Super Bowl winner?

But is there any specific relationship between home prices, mortgage rates and success in the NFL? Of course not. However, it's fun to forecast the winner of Super Bowl LII based off certain housing market characteristics!

Advantages of a FHA mortgage in 2018

Although the cost of an FHA-backed mortgage isn't likely to get any cheaper in 2018, access to credit for homebuyers with less-than-stellar credit should improve.

HSH.com's annual outlook: 2018 Mortgage and Housing Market Forecasts

At the start of each year, HSH.com details the important factors we think are most likely to influence the mortgage and real estate markets in the coming year. Come each July, we review to see if our expectations are being met or not.

HSH.com on the latest move by the Federal Reserve

The Federal Reserve concluded a meeting today with a quarter-point change to the federal funds rate to a range of 1.25 to 1.5 percent.

Is your VA mortgage refi a 'churn'?

Veterans have been lured into refinancing their VA-backed loans multiple times with promises of savings that never materialize.