Federal Funds vs. Prime Rate & Mortgage rates (graph)
HSH.com
Click here to see a graph of Fed Funds rates.
Does the Federal Funds rate affect mortgage rates? Click here to find out.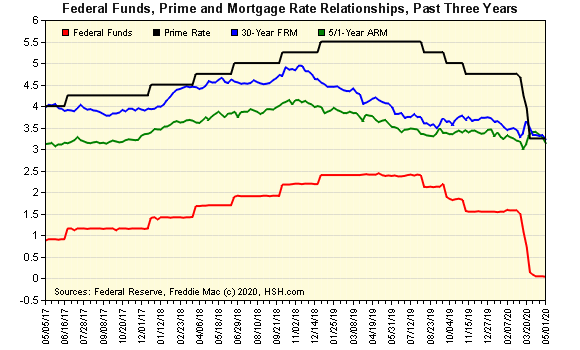 As you can see here, the Federal Funds rate and the Prime Rate track along with each other very closely.
One-year ARMs are also affected by trends in short-term interest rates. As a lenders' cost of obtaining funds to lend declines, some of those reductions as passed to borrowers in the form of lower starting rates.
Long-term rates, such as 30-year fixed-rate mortgages, pay little attention to short-term rates, responding instead to economic growth and inflation pressures. They more closely follow other long-term rates, such as the yield of the ten-year Treasury Constant Maturity.
More help from HSH.com
Refinance on the dips

Mortgage rates fluctuate like waves in the ocean; refinancers who are chasing the lowest rates can lock in their loan when rates dip.

How soon can I get another loan modification after my last one?

Getting another modification for an already modified loan is tricky, but it can be done in many cases.

HSH.com on the latest move by the Federal Reserve

The Federal Reserve concluded a meeting today, raising the federal funds rate; the target range for the key policy tool is now 1.75 to 2.00 percent.

10 metros where a home costs about $1,000/month

HSH.com identifies 10 metro areas where you can afford the principal, interest, taxes and insurance payments on a median-priced home for only around $1,000 per month.

Home price recovery index: Which metros have improved the most, least?

Have home prices in your area fully recovered from the declines suffered during the Great Recession, or are they still struggling to make it back to the peak it reached before the crisis?