Federal Funds vs. Prime Rate & Mortgage rates (graph)
HSH.com
Click here to see a graph of Fed Funds rates.
Does the Federal Funds rate affect mortgage rates? Click here to find out.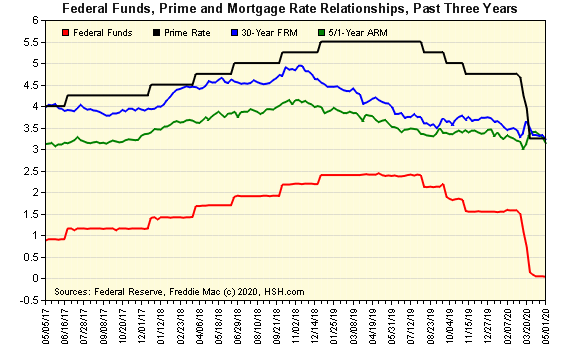 As you can see here, the Federal Funds rate and the Prime Rate track along with each other very closely.
One-year ARMs are also affected by trends in short-term interest rates. As a lenders' cost of obtaining funds to lend declines, some of those reductions as passed to borrowers in the form of lower starting rates.
Long-term rates, such as 30-year fixed-rate mortgages, pay little attention to short-term rates, responding instead to economic growth and inflation pressures. They more closely follow other long-term rates, such as the yield of the ten-year Treasury Constant Maturity.
More help from HSH.com
7 reasons to refinance now

Falling rates bring new chances for homeowners to refinance, while also allowing potential homebuyers to qualify for larger mortgage loans without increasing their monthly payment.

12 essential tax questions for homeowners

Knowing the answers to these 12 critical tax questions will help homeowners keep their tax bill as low as possible.

Mortgage Rates Radar 02/09/2016: Fixed Rates Fall to April 2015 Levels

HSH.com releases its latest Weekly Mortgage Rates Radar showing that the 2016 downturn for mortgage rates continues unabated, as financial market turbulence and slow economic growth continue to drive rates downward. The Weekly Mortgage Rates Radar reports the average rates and points offered by lenders for the two most popular types of mortgages, the conforming 30-year fixed-rate mortgage and the conforming 5/1 adjustable-rate mortgage (ARM).

12 ways to get the lowest mortgage refinance rates

To get the lowest mortgage refinance rates, first prepare your finances and then shop for interest rates with certain strategies in mind. Here are 12 ways to ensure you lock in the lowest refinance rate possible.

How to avoid a VA foreclosure

If you're in a VA mortgage and finding it increasingly difficult (or impossible) to make your mortgage payments, you'll need to take action if you want to keep your home from falling into foreclosure.