Federal Funds vs. Prime Rate & Mortgage rates (graph)
HSH.com
Click here to see a graph of Fed Funds rates.
Does the Federal Funds rate affect mortgage rates? Click here to find out.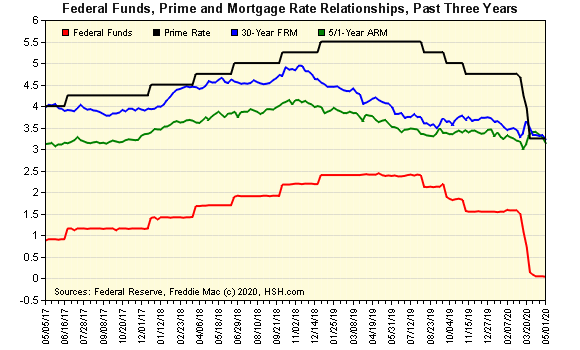 As you can see here, the Federal Funds rate and the Prime Rate track along with each other very closely.
One-year ARMs are also affected by trends in short-term interest rates. As a lenders' cost of obtaining funds to lend declines, some of those reductions as passed to borrowers in the form of lower starting rates.
Long-term rates, such as 30-year fixed-rate mortgages, pay little attention to short-term rates, responding instead to economic growth and inflation pressures. They more closely follow other long-term rates, such as the yield of the ten-year Treasury Constant Maturity.
More help from HSH.com
Metropolitan area definitions

Metro area definitions for the 50 metropolitan areas in "The salary you must earn to buy a home in 50 metros"

The salary you must earn to buy a home in the 50 largest metros

Here's how much salary you would need to earn in order to afford the median-priced home in your metro area.

Will the debt forgiven from my loan modification be treated as income and taxed?

Mortgage debt forgiven via due to principal reductions in HAMP and other mortgage modifications aren't subject to tax, but there are conditions you should know.

HSH.com on the latest move by the Federal Reserve

The Federal Reserve concluded a meeting today with no change to the federal funds rate; the target range for the key policy tool remains 1.25 to 1.5 percent.

How to refinance when you are self-employed

Refinancing rules aren't the same when you are self-employed. This article explains how self-employed borrowers can successfully refinance.