Federal Funds vs. Prime Rate & Mortgage rates (graph)
HSH.com
Click here to see a graph of Fed Funds rates.
Does the Federal Funds rate affect mortgage rates? Click here to find out.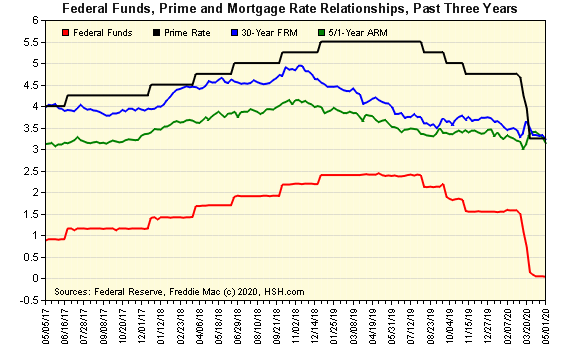 As you can see here, the Federal Funds rate and the Prime Rate track along with each other very closely.
One-year ARMs are also affected by trends in short-term interest rates. As a lenders' cost of obtaining funds to lend declines, some of those reductions as passed to borrowers in the form of lower starting rates.
Long-term rates, such as 30-year fixed-rate mortgages, pay little attention to short-term rates, responding instead to economic growth and inflation pressures. They more closely follow other long-term rates, such as the yield of the ten-year Treasury Constant Maturity.
More help from HSH.com
Advantages of a FHA mortgage in 2017

FHA loans have become more affordable in 2015, thanks to a drop in the annual mortgage insurance premium that the Federal Housing Administration charges.

Streamline Refinance Program to Replace HARP

The HARP refinance program for troubled or underwater homeowners will come to an end in 2017, but a new streamline refinance program will takes its place.

Flex Modification: An outline of HAMP's replacement

The Making Home Affordable Home Affordable Modification Program comes to an end on December 31, 2016, but is being replaced by a new Flex Modification program from Fannie Mae and Freddie Mac.

HSH.com's yearly outlook: 2017 - Nine forecasts and outlooks

At the start of each year, HSH.com details the important factors we think are most likely to influence the mortgage and real estate markets in the coming year.

HSH.com on the latest move by the Federal Reserve

The Federal Reserve concluded a meeting today with no change to the federal funds rate and no changes to other monetary policy tools.