Federal Funds vs. Prime Rate & Mortgage rates (graph)
HSH.com
Click here to see a graph of Fed Funds rates.
Does the Federal Funds rate affect mortgage rates? Click here to find out.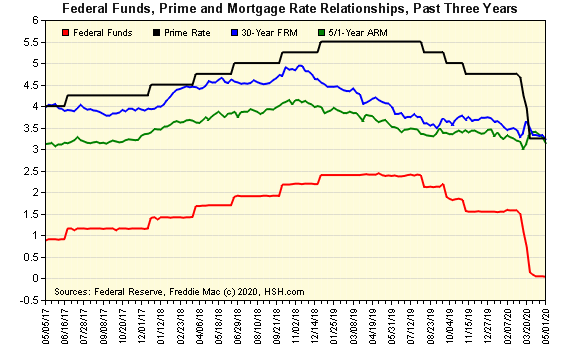 As you can see here, the Federal Funds rate and the Prime Rate track along with each other very closely.
One-year ARMs are also affected by trends in short-term interest rates. As a lenders' cost of obtaining funds to lend declines, some of those reductions as passed to borrowers in the form of lower starting rates.
Long-term rates, such as 30-year fixed-rate mortgages, pay little attention to short-term rates, responding instead to economic growth and inflation pressures. They more closely follow other long-term rates, such as the yield of the ten-year Treasury Constant Maturity.
More help from HSH.com
Mortage Rates Radar 11/24/2015: Slight Downward Drift for Mortgage Rates

Consumers experienced a slight upward movement in mortgage rates amid better-than-expected growth in GDP.

8 costs to consider when buying a rental property

Mortgage Rates Radar 11/17/2015: Mortgage Rates Still Rising

Mortgage rates in the U.S. continued their rise, though overall rates remain historically low.

12 ways to get the lowest mortgage refinance rates

To get the lowest mortgage refinance rates, first prepare your finances and then shop for interest rates with certain strategies in mind. Here are 12 ways to ensure you lock in the lowest refinance rate possible.

How to buy and finance apartment buildings

Here's a guide to what borrowers need to know about how to buy and finance apartment buildings.