Federal Funds vs. Prime Rate & Mortgage rates (graph)
HSH.com
Click here to see a graph of Fed Funds rates.
Does the Federal Funds rate affect mortgage rates? Click here to find out.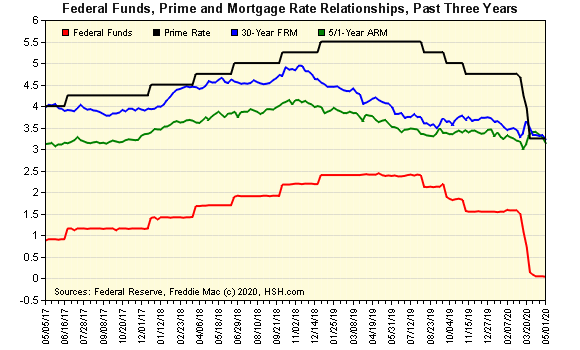 As you can see here, the Federal Funds rate and the Prime Rate track along with each other very closely.
Short- and mid-term ARMs, such as the 5/1 ARM shown above, are also affected by trends in short-term interest rates. As a lenders' cost of obtaining funds to lend changes, some of those reductions or increases are passed to borrowers in the form of lower (or higher) starting rates.
Long-term rates, such as 30-year fixed-rate mortgages, pay little attention to short-term rates, responding instead to economic growth and inflation pressures. They more closely follow other long-term rates, such as the yield of the ten-year Treasury Constant Maturity.
More help from HSH.com
Home price recovery index: Which metros have improved the most, least?

Have home prices in your area fully recovered from the declines suffered during the Great Recession, or are they still struggling to make it back to the peak reached before the crisis?

10 metros where a home costs about $1,000/month

HSH.com identifies 10 metro areas where you can afford the principal, interest, taxes and insurance payments on a median-priced home for only around $1,000 per month.

The salary you must earn to buy a home in the 50 largest metros

Here's how much salary you would need to earn in order to afford the median-priced home in your metro area.

Advantages of a FHA mortgage in 2019

Although the cost of an FHA-backed mortgage isn't likely to get any cheaper in 2019, access to credit for homebuyers with less-than-stellar credit should improve.

HSH.com's annual outlook: 2019 Mortgage and Housing Market Forecasts

At the start of each year, HSH.com details the important factors we think are most likely to influence the mortgage and real estate markets in the coming year. Come each July, we review to see if our expectations are being met or not.